Quiet revolution: iPad Pro replaces my MacBook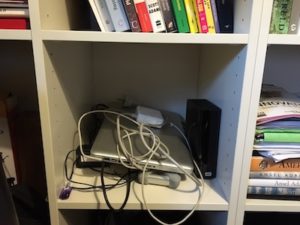 My office has been the location of a quiet revolution. My faithful MacBook, my 3rd Apple laptop, has been hiding in the cupboard for weeks now. The iPad Pro, bought to watch television and for the odd game, has made it redundant. It started with emails: the ease of reading, answering and deleting mails on the iPad has made me replace the MacBook. Slowly other tasks followed, such as writing short blokboek.com articles. The screen and keyboard were more than sufficient, I don´t even need a separate keyboard.
Adobe and Apple have proven that simple photo editing can be done very well on the iPad. Keeping the blokboek.com website up-to-date and editing text can also easily be done on the iPad. The fact that I am no longer stuck to a place or a time, because of the 4G sim card option of the iPad Pro, has been the driving force behind the fact that my MacBook is now relegated to the desk drawer. For tasks such as the newsletter and more complicated Photoshop tasks I use my MacMini with 27″ screen, but my MacBook will only be used when travelling.
I predict it is only a matter of time for a comeback of the iPad, despite the lower sales reported. Especially if the new generation will have improved battery time and storage. And I am not the only one who is witness to this quiet revolution. Read ex-Apple boss Jean-Louis Gassée´s analysis in this week´s Monday Morning post which indicates that the trend is parallel to the success of the Microsoft Surface which does the same for the Windows laptop.
---