Pure Digital nearly sold out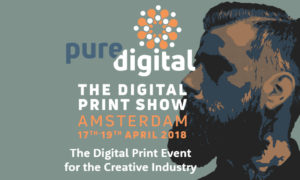 According to the organisation only 3 stands are left for the Pure Digital fair which will be held between 17 and 19 April in Amsterdam. This is the first time the fair is organised and it is a co-production with Building Holland. According to the organisation there is increasingly more connection between print and construction. This thinking is the reason that and expected 15,000 visitors to Building Holland will also visit Pure Digital.
Pure Digital is a groundbreaking and unique event of which the goal is to inspire European creative industries by showing innovative digital printing. Contrary to traditional print based trade fairs, Pure Digital´s format, content and style has been designed to attract creative industries. Think of creative directors, architects, interior designers, graphic designers, fashion designers, marketers and entrepreneurs of (wide format) print companies. During this unique event in Europe, Pure Digital will present the best of the best in creative designing for digital printing.