Rehms Druck kiest voor Konica Minolta Accuriojet KM-1 B2 inkjet pers
De Duitse drukker Rehms Druck heeft voor zijn eerste investering in B2 inkjet gekozen voor de Konica Minolta AccurioJet KM-1. Na uitgebreide testen is Rehms overtuigd van de afdrukkwaliteit en productiviteit van de KM-1 die ingezet gaat worden voor direct mail, verpakking en vouwkarton producties. Lees meer over de motivatie voor deze investering in onderstaand persbericht.
PERS BERICHT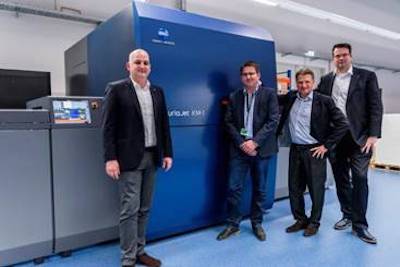 Christian Rittmoeller, Daniel Baier (Rehms Druck), Markus Neumann and Thorsten Kinnen (all Konica Minolta) in front of AccurioJet KM-1
Rehms Druck GmbH has chosen Konica Minolta's AccurioJet KM-1 for its first investment in B2 inkjet. The sheetfed press further expands the company's capabilities, enabling it to grow into new markets using one digital inkjet technology that can handle direct mail and packaging such as folding cartons, as well as a range of other key applications.
Rehms Druck challenged Konica Minolta to print a range of applications that included high quality direct mail, packaging and labels. The selection process also involved asking Konica Minolta to prove the capabilities of the AccurioJet KM-1 in terms of quality and return on investment.
The "significant" deal was finalised at the end of February with Rehms Druck also benefiting from Konica Minolta's world-class support services. These include marketing planning, application development and insight, and on-site training for key operators, as well as elite access to PROKOM, the independent user group of Konica Minolta.
Rehms Druck, of Borken, Westphalia, in north west Germany, has been a loyal Konica Minolta customer for many years using its toner-based system. However, the company realised in 2016, at drupa, that the time was right to invest in cut-sheet UV inkjet technology and, specifically, the AccurioJet KM-1.
Among the many advantages of this unique digital inkjet press is the patented technology that helps the Konica Minolta AccurioJet KM-1 to "freeze" the inkjet dot, allowing for perfect registration of colours and image stability. The flexibility of the AccurioJet KM-1 includes a unique ability to duplex (perfect) prints that come off the press and go straight to finishing.
The AccurioJet KM-1 B2+ press provides a wide range of media handling on both coated and uncoated substrates from 0.06 to 0.6mm. This means customers can use standard offset stocks without the need for pre-treatment or expensive digital papers. Rehms Druck will expand this feature into printing on to certain types of plastics and labels, delivering the full benefits that UV ink can deliver.
A key reason for Rehms Druck in selecting Konica Minolta as its preferred business partner was the ability to have one proven technology capable of printing packaging, as well as commercial work.
Daniel Baier, Managing Director of Rehms Druck, said: "We thoroughly tested the print quality of the Konica Minolta AccurioJet KM-1 against its competitors. And the quality and the results have really inspired us to make the investment now. The performance and return on investment that the AccurioJet KM-1 can deliver will allow us to expand our market capability as we move into the packaging market and continue to develop our direct mail capabilities.
"Konica Minolta spent many months working with our teams to fully understand our business and specific requirements. We have been highly impressed by the professionalism and the attention to detail that everybody from Konica Minolta has taken to support our venture into new markets."
Mark Hinder, Head of Market Development for Konica Minolta Europe, said: "We pay careful attention to our customers' needs so we can build a successful business partnership focusing on the new market opportunities that UV inkjet can create. Our teams have been heavily involved in identifying and assessing how the AccurioJet KM-1 could not only integrate into Rehms Druck's existing Kodak PRINERGY workflows, but also through variable data streams. This is further proof that this digital print system is a highly flexible, adaptable platform for innovative customers looking to expand their capabilities.
"This AccurioJet KM-1 will enable Rehms Druck to grow into new applications that would not have been possible with other technologies, thanks to the large sheet size this world-class production system can offer."
He added: "Rehms Druck will now also have the ability to network with other AccurioJet KM-1 customers benefiting from the strong return on investment that UV inkjet can bring."