Kodak launched cryptocurrency for photo rights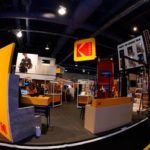 Kodak is joining the trend in virtual currencies and blockchain. The company wants to mine bitcoins on the one hand and launch its own currency. Just the announcement was an impulse for an improved stock price.
Kodak is introducing two things: a blockchain-based service and the generation of cryptocurrency with financial help of clients. Kodak announced this during electronics show CES in Las Vegas.
Kodak will partner with Wenn Digital for what it describes as a ´photo centric cryptocurrency´. This will be a platform for photographers to register and license new and existing work for which they will be paid. Kodak wants to offer this service for professional and amateur photographers.