Grappig: vandaag op printbusiness.co.uk
How the Grinch stole Drupa. The traditional Christmas present from us all at Print Business. Season's greetings and we wish everyone a happy and healthy new year.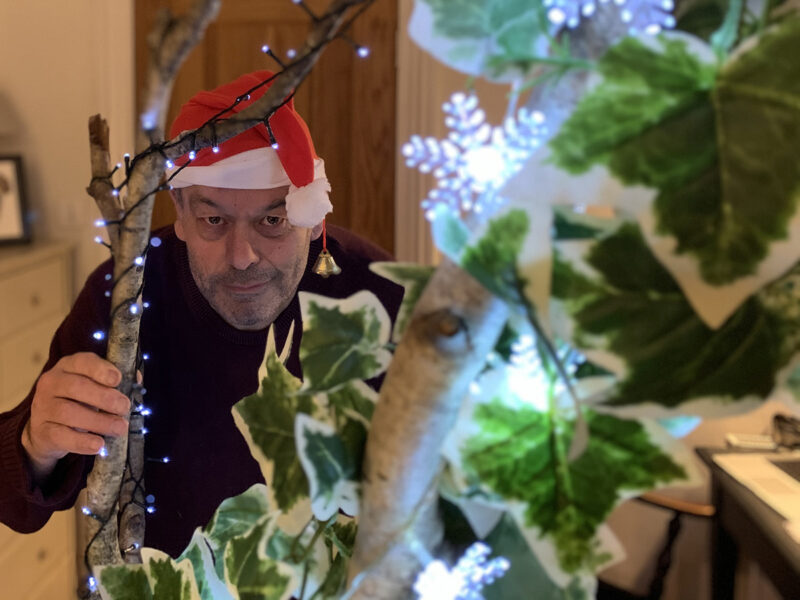 Every printer in Printville liked Drupa a lot,
But the Grinch who lived west of Printville
Did Not.
The Grinch hated Drupa – the whole Drupa City
Now don't ask me why. It was such a pity
It could be he used to run a press
It could be he used to drink to excess
But I think at the heart of the secret
Was that the Grinch had very very soft feet
That could not walk the halls and the aisles,
A trek that took hours and went on for miles.
They have all booked their space he said with a sneer
Tomorrow is Drupa It's practically here
And he growled, his Grinch fingers nervously drumming
I'll find a way to stop Drupa coming
For tomorrow he knew…
But whatever the reason, the booze or his toe,
He sat in the Alstadt, just hating the show
Sipping an Altbier and watching them come
The printers from Glasgow, London and Brum,
Eager to see what Landa had got, what Xerox,
What Ricoh, what Canon?
Was inkjet now ready?
Of course it was not
Next morn to the trams they will fly
Jostle and hustle a bratwurst to buy.
And the buzz, the Buzz, the BUZZ, THE BUZZ
And the hiss of the suckers, the click of the grippers,
The snap of the paper. It gave him the shivers.
A demo to watch, a feast for the eyes
The lights as they blink and perhaps hypnotise
Into wanting to buy and Buy and BUY.
They buy a new press, stitcher and more.
Their mouths just hang open as they wander the floor,
The Grinch could not stand this technology feast
Which is why he must stop the runaway beast.
Then comes something he likes least of all
The sound of the Drupa song rings through the hall
Every man and his wife, every girl and each boy
Would stop and would sing, their hearts filled with joy.
And they sing and they sing and Sing, Sing Sing, SING SING.
And the more the Grinch thought 'I must stop this whole thing'
Four years since Drupa last happened and now
I must stop Drupa from opening. BUT HOW?
Then he got an idea
An awful idea
The Grinch got a wonderful awful idea.
'What I need is a fork lift', the Grinch looked around
But fork lifts are scarce, there was none to be found
Outside he went and looked for a truck
And finally found one – Oh such luck!
This he could use, with some rope and a spanner
He set out for the Messe, swinging a hammer.
The windows were lit, the builders had finished
The paint was still wet, the metalwork polished
As into the hall the Grinch came at a trot
His heart was thumping because of his plot
He carried a clipboard, a blue form on it
A fake message from Drupa, an order to quit
He showed it to Xerox for someone could read
They shouted and waved and packed up with speed
It works, said the Grinch with a smile
Pleased that his plot displayed such smart guile
To Heidelberg next – they rushed out the door
Next HP and Bobst, Komori and more
His fake form was working, Drupa was over
Printers tomorrow empty space would discover
And then in Hall 9 a white haired man stopped him and said
'Just what are you doing?'
The Grinch stopped dead.
But you know that Old Grinch was so smart and so slick
He thought up a lie and he thought it up quick
"The Rhine is in flood, it's coming this way.
You must leave right now. This hour. Today!
"But I always love Drupa," says Mr Benny Landa
He gazed at his stand, the lights and its grandeur,
Then sighed and called his team to appear
Time to go then, he told them, wiping a tear.
And so the Grinch had won, he'd won, Won, WON
Drupa had closed, its red flags were lowered
The Grinch was delighted his idea had flowered
No printers would come. No presses would sell
No coffee, No beer, No bratwurst as well
Then. What was that ping? An email had landed
The Grinch stopped to read what it stated:
Drupa was cancelled, no one could come. That was not fine,
But the show could go on, but only online.
Faint cheers grew louder and reached the Grinch in his room
Virtual Drupa would happen on Teams and on Zoom.
The show had been saved. It was more than the halls.
The Grinch saw that Drupa was bigger than his bawls
And what was that noise, the sound of a gong?
No. The Grinch he was singing the old Drupa song!