FESPA Digital wordt FESPA Global Print Expo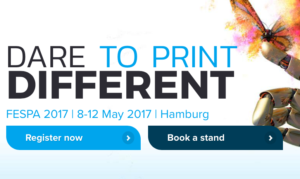 Gebaseerd op het succes van FESPA Digital Amsterdam waar print in al zijn facetten veel bezoekers trok, heeft FESPA besloten om het evenement om te dopen tot een jaarlijkse FESPA Global Print Expo. Het heeft ook al de locaties voor 2018 in Berlijn en 2019 in München, bekendgemaakt.
De Global Print Expo, die dit jaar in Hamburg van 8 tot 12 mei plaatsvindt, zal aangevuld worden met 'regionale' beurzen in Azië, Zuid-Amerika en Oost-Europa. Lees meer over deze aankondiging in het onderstaande persbericht.
PRESS RELEASE
FLAGSHIP EUROPEAN FESPA EVENT TO BECOME ANNUAL GLOBAL PRINT EXPO
FESPA DIGITAL'S SUCCESS DRIVES DEMAND FOR YEARLY EVENT EMBRACING ALL TECHNOLOGIES AND APPLICATIONS
 Release date: Thursday 23rd February 2017
---
FESPA's global print expo – the flagship biennial international exhibition for digital wide format, screen and textile print – will become an annual event from 2017 onwards.
The decision has been made by FESPA, in consultation with exhibitors and visitors, to provide the global speciality print community with one comprehensive yearly destination event, covering all technologies, processes and applications.
FESPA Digital, the event focussed specifically on digital wide format technologies, will be replaced by this all-encompassing event.
Neil Felton, FESPA CEO, explains: "with this change, we aim to bring clarity and consistency to the global print community. Since 2006, our flagship FESPA event has alternated with FESPA Digital, reflecting the digital revolution that has so dramatically reshaped and revitalised our sector over the last decade. In fact, FESPA Digital has succeeded to the point where it is virtually as significant a landmark in the print event calendar as the original FESPA. Today, feedback from both visitors and exhibitors is that – as digital becomes a mature technology – they would prefer to see FESPA present one annual event, embracing both digital and analogue products and applications to reflect the diversity of their businesses."
FESPA's next global print expo – FESPA 2017 – takes place in Hamburg, Germany, from 8th to 12th May 2017, and will feature the full spectrum of screen, digital and textile print. The visitor campaign for this edition launched in January 2017 under the strapline 'Dare to Print Different'. Beyond 2017, FESPA has now confirmed Berlin and Munich as the host cities for the 2018 and 2019 editions respectively, with both editions to take place in May.
FESPA Divisional Director Roz McGuinness adds: "by unifying our European events and removing the 'Digital' distinction, we can focus all our energies on delivering the same great event experience for all participants, every year. For our visitors, it ensures that whatever the year, wherever they are in their investment cycle, they can attend a trusted FESPA event in Europe that meets all their needs as a source of information and inspiration."
She continue: "suppliers of technology and consumables for screen print now have the opportunity to exhibit at FESPA every year, giving them a regular platform to share their ideas and innovations, rather than being constrained by a cyclical event calendar. It also ensures that we can present a consistent offering for our growing community of visitors from textile and other industrial sectors, and enables us to give greater continuity to more recently launched events and initiatives such as European Sign Expo and Printeriors."
By notifying exhibitors of the locations and timeframe of later editions of the FESPA exhibition well in advance, FESPA aims to support exhibiting companies with their long-term planning, while ensuring that visitors are aware of the show locations and can make advance travel plans accordingly.
All European FESPA venues are chosen for the quality of their exhibition facilities, and ease of accessibility for international visitors. Hamburg, Berlin and Munich are all major international business hubs, with good air, rail and road transport links, and a wide range of accommodation and hospitality options.
Berlin was the host city for FESPA 2007, one of the most memorable editions in the event's 50-year history, while Munich has welcomed FESPA on four previous occasions, in 1999, 2005, 2010 and 2014 and is a favourite host city with both exhibitors and visitors.
Peripatetic movement of FESPA exhibitions between host cities improves accessibility for visitors from across Europe and ensures that the geographical make-up of the audience changes annually, helping exhibitors to engage with the widest possible audience of customers and prospects. Based on data from FESPA Digital 2011, the location of the 2017 event in Hamburg is expected to appeal particularly to visitors from northern and central Germany, while also attracting substantial delegations from the Benelux and Nordic regions. Berlin 2007 expanded FESPA's audience from northern Germany and north-eastern Europe, while FESPA events in Munich typically draw enlarged delegate groups from central Europe and Italy.
FESPA's global print expo in Europe is complemented by a programme of tailored regional exhibitions in Asia, Eurasia, Central and South America and Africa, facilitating access to FESPA events for print service providers in these developing markets.