Eddy Hagen over de invloed van e-commerce op verpakking design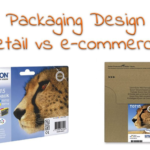 Insights4print Eddy Hagen bezocht de Direct to Container Print conferentie in Amsterdam en kwam terug met een opmerkelijke constatering. De opkomst van e-commerce en webwinkels heeft een grote invloed op het ontwerp van verpakkingen. Lees via deze link naar zijn blog hoe dat bijvoorbeeld voor de verpakking van Epson inkt cartridges uitpakte, en hoe vormgevers inspelen op de specifieke behoefte van e-commerce verpakkingen.
Eddy Hagen: the influence of e-commerce on packaging design
Insights4print´s Eddy Hagen visited the Direct to Container Print conference in Amsterdam and returned with some remarkable insights. The rise of e-commerce and webshops has a big influence on packaging design.
Read his blog, via this link, about how the packaging of Epson´s ink cartridges changed and how designers anticipate the specific needs of e-commerce packaging.