Digitale geprinte catalogus met spectaculair kleurgamma helpt de verkoop van exclusieve modelijn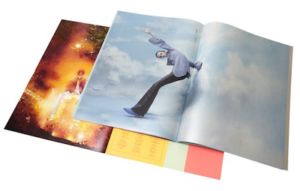 Dankzij de op een Fuji Jet Press 720S geprinte catalogus, heeft Paul Hetherington, zijn streetwear wordt gedragen door o.a. Kanye West en Lady Gaga, nog meer succes met zijn nieuwe label Alyx. Hetherington koos voor de print van de Jet Press, om de perfecte weergave van ook de moeilijkste kleuren. Na uitgebreide testen liet hij 300 exemplaren, bestemd voor de belangrijkste fashion editors van de wereld, printen bij het Italiaanse FAService, een van de eerste gebruikers van de Fuji Jet Press 720S. De keuze voor print als promotiemiddel door Hetherington, onderstreept weer het succes van een tastbare en exclusieve manier om producten onder de aandacht te brengen van influencers en consumenten.
Lees meer over dit bijzondere project in het onderstaand persbericht.
PERSBERICHT
A catalogue to bring the catwalk to life
Series of high-end B3 fashion catalogues of 'extraordinary' quality printed on Fujifilm's Jet Press 720S.
What's the best way to get a fledging fashion brand noticed? This was the challenge faced by experienced, UK-based art director, Paul Hetherington, and leading fashion photographer, Nick Knight, when they were asked to promote high-fashion streetwear brand, Alyx. The L.A. designer behind this radical label has dressed some of the biggest stars around, including Kanye West and Lady Gaga, but getting noticed in such a crowded field with so many established brands can be a challenge.
The main promotional channel today for fashion brands is online, but that medium has become saturated. Recognising this and the fact that there is a renewed interest in print from not only the old guard, but also by a new generation who have only ever known the dominance of the internet, Hetherington set out to identify a print format that would help Alyx stand out from the competition.
"I've been doing what I do for 30 years now and I've always been interested in the role that print can play in fashion marketing," says Hetherington. "Around three years ago, when I started working with Alyx, I began seriously researching the print industry, because I realised that I just didn't know what was out there. I'd been hearing about the increasing quality of digital print and this prompted me to take a closer look. Alyx was planning to create an A5 format 'look book' to promote the brand to fashion editors, but I became convinced that a short run of large, B3 format catalogues – with Nick Knight's striking photographs – could be a powerful way to get the brand noticed by key influencers in the industry. The quality had to be exceptional and I needed to find a digital press that could reliably deliver such quality, because for such a short run, litho print was just too costly."
Hetherington explains how his search ended with Fujifilm's Jet Press 720S: "I started attending every print trade show and 'open house' event I could find. At one of these I came across some of Fujifilm's Acuity wide format printers. Though these weren't quite what I was looking for, I was struck by the quality and signed up to a Fujifilm mailing list to keep a close eye on what they were doing. I went along to a Fujifilm open house event in Bedford in 2015 and that's when I first came across the Jet Press 720S."
At the time, there weren't yet any Jet Press 720S presses in the UK. But after looking at some samples, Hetherington thought (for the first time) that he might have found what he was looking for. In fact he was sufficiently convinced that he took a trip to Italy to visit Fujifilm customer, FAService, an early adopter of the machine.
"Seeing it in action, I was even more impressed," Hetherington continues. "So much so that I gave them the job of printing 300 copies of my catalogue, which then ended up on the desks of some of the most influential fashion editors in the world."
"The response was excellent, and happily for me, by the time I came to print the next catalogue in the series, the Jet Press had arrived in the UK and I was able to get it printed by Emmerson Press in the West Midlands. A third catalogue is in the works and this too will be printed on the Jet Press 720S."
"I can honestly say that, in my three years of in-depth research into the print industry, the Jet Press 720S is the single most interesting and substantial piece of technology I have come across. It was perfect for my needs for so many reasons: the format size is exactly what I required, the quality is extraordinary and the wider ink colour gamut makes a huge difference, as standard process cmyk can be really disappointing for vibrant fashion colours. Emmerson Press pulled out all of the stops, and the Jet Press did not disappoint. I'm delighted with the results and I would highly recommend the Jet Press 720S to anyone who is looking for a short print run of outstanding quality."
Concludes Graham Leeson, Head of Communications & Sales Enablement, Fujifilm Europe: "In such a competitive industry, it's tough to find the right tools to make a brand stand out, but high quality print now has the potential to make a bigger impact than ever. Paul Hetherington recognised that potential, and in the Jet Press 720S he found the perfect machine to make his concept a reality."