CirclePrinters aquires Corelio Printing (Belgium)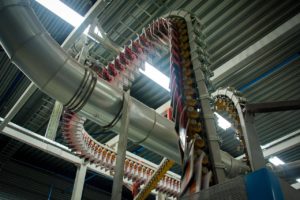 CirclePrinters announces that it has reached an agreement with Corelio NV about the acquisition of the Belgian company Corelio Printing, subsidiary of Corelio NV. With this acquisition CirclePrinters will strengthen its position in the Benelux and France, as well as continue to lead the ongoing consolidation of the European printing and media industry.
Corelio Printing has revenues in excess of €50 million and close to 200 employees. The company is a leading Belgian web-offset printing company based at Erpe-Mere, and specialised in the printing of periodicals, magazines, newspaper supplements and catalogues. The company is a reliable partner for many Belgian, Dutch and a growing number of French publishers. Corelio Printing is a subsidiary of Corelio NV, majority shareholder and parent company of the Belgian-Dutch media group Mediahuis.
The transaction is expected to close early April of this year. At present both companies do not expect redundancies as a result of the acquisition.
After closing of the transaction, CirclePrinters intends to integrate Corelio Printing within its printing activities in the Benelux.
Joost de Haas, Executive Director of CirclePrinters: "The need to further consolidate the Benelux printing market that is characterized by overcapacity, has been one of the cornerstones of our strategy for years. With the acquisition of Corelio Printing we take a next step in the further consolidation of the European industry, while strengthening our position in the French magazine market. At the same time CirclePrinters reinforces its role as a partner for its customers, offering a growing level of innovation and added value."
Bruno de Cartier, Managing Director of Corelio NV: "CirclePrinters and Corelio Printing are complementary and the combination will strengthen their position in de Benelux and French market. It will create new opportunities and will extend the commercial capabilities, necessary for the further development of the printing activities in Erpe-Mere. Following the contribution of Corelio NV's remaining media activities to Mediahuis NV in the course of 2017, the sale of Corelio Printing now completes the streamlining of our group. Corelio NV will henceforth exclusively focus on its role as majority shareholder of the successful and growing Mediahuis Group."
ING Corporate Finance was acting as exclusive financial advisor to Corelio NV with regard to the sale of its interest in Corelio Printing NV.