Can Kodak "prosper" now it´s keeping its inkjet business?
Kodak has decided against selling its Prosper inkjet technology. This decision seems to be driven by the rising interest in production inkjet systems. But also, according to insiders, the interest in the very promising UltraStream technology was not as hoped. Not surprising seeing the amount of competition in this sector.
Competition from proven technology from Xaar, Konica Minolta and HP and from newcomers such as Landa´s Nanographic system which will be beta-tested this year. The question is if UltraStream powered systems, which is expected to be brought to market in 2019 by 4 inkjet production printer producers, can beat this competition.
It is a battle for a market which, according to the latest drupa trend report, is not growing as fast as experts expected and it is battled out at various levels.  HP, Xerox and Canon can build on the replacement market for their installed based printing systems. Printhead producers Xaar and Memjet have the advantage of supplying a giant number of production printer producers in the vertical and regional markets. Landa has a marketing advantage with a perfectly hyped product. Add to that Fint, owner of Xeikon, who will not only offer toner but also inkjet solutions and can delve into its rich experience in the production of ink and the battleground seems quite complicated.
Tough times ahead for new Kodak Prosper division boss Randy Vandengriff and for our industry with a wide variety of digital solutions. Read more about this surprising news in the press release below.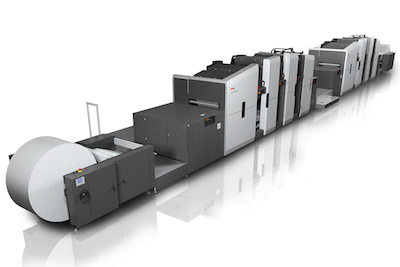 PRESS RELEASE
Kodak announces strategic decision to retain PROSPER inkjet business
ROCHESTER, NY, Friday, April 07, 2017 —
Eastman Kodak Company (NYSE: KODK) today announced it will retain its PROSPER inkjet business. The decision was made following in-depth management review of business operations and multiple discussions with prospective buyers.
"This is a pragmatic decision given the improvements in the business and the offers received," said Jeff Clarke, Kodak Chief Executive Officer. "PROSPER performed well in 2016 with a 40 percent increase in annuity sales for the full year. We expect our Enterprise Inkjet Systems Division (EISD) to be profitable this year, including our next-generation ULTRASTREAM investment."
Kodak will continue to invest in its ULTRASTREAM program and has entered into letters of intent with partners which will create new applications that drive market demand for the technology. Kodak will begin delivering ULTRASTREAM evaluation kits to 17 companies, including Fuji Kikai, GOSS China, Matti, Mitsubishi Heavy Industries Printing & Packaging Machinery (MHI-PPM) and Uteco, to explore the integration of ULTRASTREAM into their future printing solutions. Kodak expects products built on ULTRASTREAM technology to go to market in 2019.
"Kodak will continue to evaluate and act on opportunities to improve shareholder value through acquisitions, partnerships, and sales of businesses within its portfolio," said Clarke.
"The sale process for PROSPER which we conducted over the past year was robust," said David Bullwinkle, Kodak Chief Financial Officer. "We hired Sagent Advisors, which solicited interest from global organizations. Strong interest in the business and technology existed throughout the process. While we had multiple offers, the range of consideration did not reflect the value of the business today."
Kodak will recast financial results to reclassify PROSPER into continuing operations of the company within the Enterprise Inkjet Systems Division. Kodak has been accounting for PROSPER in discontinued operations as an asset available for sale and will provide an update of this reclassification on its next quarterly earnings call.
#