Benoit Chatelard successor to Wim Maes at Xeikon
Xeikon, a division of Flint Group, and market leader in digital colour printing technology today announced that Benoit Chatelard will assume the role of President & CEO of Flint Group's Digital Solutions effective May 8th. In his mandate to further develop Flint Group Digital Solutions portfolio and customer reach in that arena, for which Xeikon is a strategic element, he will be proposed as CEO of Xeikon (to be confirmed by the Xeikon shareholders meeting).
BENOIT CHATELARD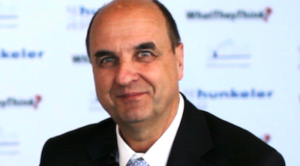 Chatelard has a rich history in the digital production printing market. Most recently, he was Vice President, Production Printing Business Group for Ricoh Europe. His digital production printing career began in 2002 when he led the IBM Printing Systems Division for France, Belgium and Luxembourg. With the creation of the InfoPrint Solutions Compoany Joint Venture between Ricoh and IBM in 2007, Chatelard was appointed Vice President & General Manager for the joint venture in Asia Pacific based in Singapore, and continued to take on increased leadership responsibilities within Ricoh Europe over the ensuing years.
INVALUABLE CONTRIBUTION
"First, I want to thank Wim Maes for his years of service to Xeikon, and for the great work he did in getting the Flint Group Digital Printing Solutions division off the ground following our acquisition of Xeikon. His contributions have been invaluable in our ability to continue growth at Xeikon, better integrate sales efforts among our divisions, implement proper market segmentation, develop and implement investment strategies, and build a product roadmap for the Digital Printing Solutions division.  Under his leadership, Xeikon fully developed its labels and packaging domain, expanded market coverage, and thanks to customer-driven innovation, leaves the company in a strong position with a robust product portfolio. As Wim leaves our organization, we are thrilled to have an executive of the quality and with the experience of Benoit to carry the business forward. His mission is to continue executing the plan and further grow the division. Flint Group's mission is to be a global provider of digital printing equipment and overall printing supplies, and his knowledge and expertise will be important as we continue to move that mission forward."