Xaar opnieuw Manufacturing Site of the Year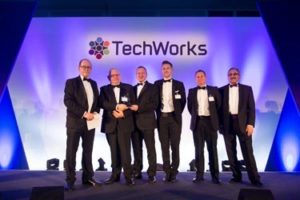 Xaar maakt niet alleen zeer efficiënt werkende inkjetkoppen, maar maakt die ook nog in een Manufacturing Site of the Year. Het is al de derde keer dat Xaar deze prestigieuze prijs in de wacht sleept. Lees meer over de verkiezing in onderstaand persbericht.
PRESS RELEASE

Xaar plc 'Manufacturing Site of the Year' again
Xaar plc, a world leader in industrial inkjet technology, has been awarded 'Manufacturing Site of the Year' for a third time by TechWorks (formerly the National Microelectronics Institute), a national industry organisation aiming to strengthen the UK's position as a global leader in future technologies.
Left to right: Rory Cellan-Jones (BBC); Brian Hall (Xaar); Iain McGregor (Ichor Systems Inc, award sponsor); Kyle Crook (Xaar); Phil Heath (Xaar); Sir Hossein Yassaie (TechWorks).
The TechWorks Awards ceremony, held last Thursday at the Greenwich Peninsula in London, celebrated this year's key electronics innovations, people and companies from across the UK and Ireland. It has been running as an annual event since 2001.
Xaar picked up its 'Manufacturing Site of the Year' award from BBC technology correspondent Rory Cellan-Jones, who commended the company's great performance in 2017, and also reserved special praise for its outstanding example of collaboration with other member sites.
The award was decided by an independent panel of expert judges, who were particularly impressed with Xaar's systematic approach and drive to improve performance through Continuous Improvement, new product development and product cost reduction activities.
'We are delighted once again to receive this prestigious award from TechWorks,' comments Doug Edwards, CEO of Xaar. 'It is recognition for the hard work of many individuals and teams throughout Xaar to increase our agility and flexibility for meeting the changing needs of our customers and their businesses, in order to achieve our 2020 goal.'
TechWorks is the UK Industry association for 'Deep Tech', or the underpinning technologies – such as AI, robotics, 5G, machine vision, IoT, analytics and automation – that drive the new economy. For more information on TechWorks, visit www.techworks.org.uk/