Deze maand is het 'Women's Print Month'. Organisator Girls Who Print zet elke dag een vrouw uit de grafische industrie in de spotlight om haar verhaal te vertellen.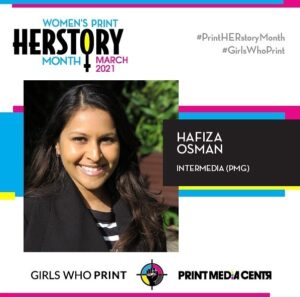 Girls Who Print is al sinds 2009 bezig met 'Empowering the Women of Print'. De stories uit deze themamaand belichten de vrouwelijke blikken in onze branche.
Zo zegt Stacey Mahmoud van Paper Handling Solutions: "I establish credibility through knowledge and experience and by demonstrating the confidence I have to be a trustworthy person." En Hafiza Osman van Intermedia: "I was always captivated by books and magazines and loved flicking through the pages. I have yet to read an e-book!" Eenzelfde papieren passie vinden we bij Brianna Caso van Grit Printing & Direct Mail: "My goal is to continue to get the word out that Print in different forms is a very effective tool in day-to-day life."
Bezoek www.girlswhoprint.net om alle verhalen van #printherstorymonth te lezen.