IPEX announces its 'Future Skills' programme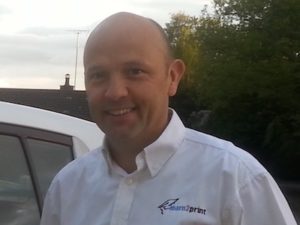 The Future Skills programme is a jewel in the crown at this year's IPEX and runs throughout the four days of the show. The event includes a packed guest speaker programme from a diverse cross-section of the print and design industry.
Rob Fisher explains, "Our Future Skills conference has been designed to inspire, engage and help the print industry promote itself. For young people considering a career in print or those that are just starting out and printers looking for guidance on filling the skills gap, this is a must-attend event. Speakers will explain how the industry can attract young talented individuals as well as highlighting the career opportunities on offer. There will also be sessions covering the apprenticeship levy, recruitment and succession planning."
For the young print professional needing career guidance, Mel Fedeli and Sarah Large from Woodrow Mercer, will be sharing findings from their market research including a discussion around what really matters to candidates, when choosing their next role and ways that print businesses can attract the finest young talent and crucially how best to retain it.
Jon Bray, Education Director at Learn2Print, will be discussing apprenticeships in print, an informative session about the enormous benefits and growth opportunities for your business, large or small. Ursula Daly, from the BPIF, will demystify apprenticeships, explaining apprenticeship standards vs frameworks, what is a trailblazer, and clarifying the status of the trailblazer for print.
A panel debate on 2nd November will also deliberate on what is happening now to encourage young people to look at our industry seriously as a career path – from engaging students to providing the means to help them succeed. It will include an interactive session to find out what 'you' as potential employers need from young people.
Adding to the programme are topics that will push the boundaries of print in the future. Tony Harmer, Specialist Solutions Consultant at Adobe, will be presenting daily about "the Adobe Creative Cloud: The world's best creative application." Printed electronics will be explained with Novalia, an award-winning team that combine conventional printing with electronics and touch software. Also, Ian Sullivan, CEO – Paperhat Consorcio, will present an informative session on Combining Print & Social Media: How to effectively manage cross media campaigns for your customers.
Rob concludes, "I believe IPEX provides an excellent combination of technology, innovation, advice and practical support, which will provide our visitors with greater insights into the opportunities that the print industry has to offer."
For further details about the Future Skills programme and complete schedule, visit: http://www.ipex.org/programme
IPEX is the UK's longest running international print show. The event takes place from 31st October to 3rd November 2017 at the NEC in Birmingham. IPEX 2017 will be a showcase of innovation, technology and print in action, covering a range of applications including printing, software, digital, and finishing. Online visitor registration is open and IPEX is free to attend, visitors are advised to register early to avoid the queues and take advantage of travel discounts and event updates at www.ipex.org/register