IDC MarketScape noemt Ricoh marketleider in het high-speed inkjet press mark segment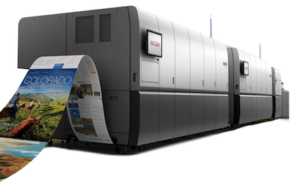 Volgens de IDC Marketscape van september is Ricoh, dankzij de brede keuze aan materialen en opties, de leider in de web production inkjet-printers-markt. Ook de servicegerichte organisatie van Ricoh, gecombineerd met een breed aanbod van expertises en trainingen, is volgens IDC de top in het marktsegment. Meer over MarketScape en Ricoh lees je in onderstaand persbericht.
---
Ricoh Europe, London, 27 October 2016 – Ricoh's robust set of services for the production inkjet market, has seen the company named a leader by the IDC MarketScape.
In the IDC MarketScape: Worldwide High-Speed Inkjet Press 2016 Vendor Assessment, September 2016, highlighted Ricoh's strengths for success in the web press market. Pinpointed was its broad product portfolio and support for a wide range of solutions and applications.
Ricoh's service-led approach levers its expertise, experience and training. The global provider of market intelligence credits Ricoh's leadership position to its commitment to innovation, which is exemplified by its 200 worldwide inkjet patents.
"We are focused on guiding our clients through the transformation their businesses require," says Benoit Chatelard, Vice President, Production Printing, Ricoh Europe. "Our success is based on understanding their needs and delivering the products and support required. We know that success in the future can be achieved only by having the best people, processes and technologies in place. The IDC MarketScape recognition is validation that we are on the right path."
About IDC MarketScape

IDC MarketScape vendor analysis model is designed to provide an overview of the competitive fitness of ICT (information and communications technology) suppliers in a given market. The research methodology utilizes a rigorous scoring methodology, based on both qualitative and quantitative criteria, that results in a single graphical illustration of each vendor's position within a given market. IDC MarketScape provides a clear framework in which the product and service offerings, capabilities and strategies, and current and future market success factors of IT and telecommunications vendors can be meaningfully compared. The framework also provides technology buyers with a 360 degree assessment of the strengths and weaknesses of current and prospective vendors.
Report details: IDC MarketScape: Worldwide High-Speed Inkjet Press 2016 Vendor Assessment
(doc #US40331116, September 2016)
---