Heidelberg offers pay per use pricing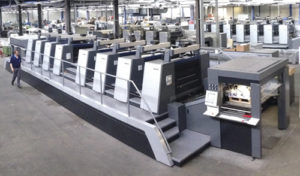 Heidelberg has more than 100 potential customers lined up for its new subscription pay-per-use business model, and is also targeting the offering at printers using presses from competitors.
The manufacturer is rolling out the subscription service as part of its "Heidelberg goes digital" business strategy, and is actively targeting printers that have a clear growth plan.
The first customer is German folding carton group Weig, which is adopting the subscription offering as part of a revamp of its Emskirchen plant. It has agreed a five-year deal.
"Under the new business model, Heidelberg will no longer make its money by supplying press components, but solely by achieving agreed productivity and growth targets," said Toni Steffens, commercial director at Weig Packaging.
Heidelberg also said that the raft of initial agreements was opening new doors and were "primarily with competitors' customers". In that case Heidelberg will supply consumables and business services only.
A Heidelberg spokesman said: "In the past we were very much focused on selling machines. Now we are selling performance. We can help our customers become more competitive with this subscription model, it's a win-win. And printers using competitive machines can now find a solution with us – they are convinced of this business approach."
Heidelberg said the new model would grow its market share in the consumables arena, and deliver increased profits from growing customers. It cited an average recurring revenue figure of at least €1m (£875k) per press, per year and said the 100 customers already identified had a potential value of €600m.
(source: Printweek)