Fespa Africa: new printers, but, more importantly, new applications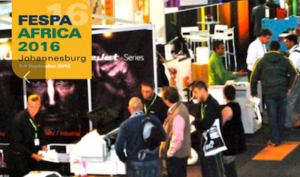 Except for the introduction of the Roland LEF-300 UV object printer and the NSDS Nano Print Plus Screen printing machine, we will not find many product introductions at Fespa Africa. The emphasis of this Fespa will be on practical solutions for sign, display and digital printing. Read about the highlights of what to expect at this tradeshow in the growth market that is Africa, in the press release below.
---
What's on display: Expo highlights

We review some of the main manufacturers and exhibitors featuring at FESPA Africa 2016 and explore what's new on the stands at this year's wide-format expo.

Advanced Machinery,  Stand E11 Hall 3

Now powered by the most efficient and cutting edge Servo Motor Driving System, the V-auto superfast wireless vinyl cutter gives an output of 0.001mm driving precision while cutting at fast speeds and ensuring high accuracy movements. This innovative vinyl cutter, which is blended with an Automatic contouring ability, has wowed signage enthusiasts with its 50-1200mm per second cutting/plotting Speed.

Its ability to support Wi-Fi connection allows this model to connect several computers simultaneously. The V-Auto Vinyl Cutter comes with Roland compatible blades with five free complementary blades: three of which are 45 degrees, together with the 30 degrees and 60 degrees respectively.

For entrepreneurial entities who are looking at doing minimum cuts of 2mm height letters, the V-Auto is an ideal product. It automatically locates the registration marks in the media, aligning and cutting your work for you, all this at the press of a button.

Melco, Stand D27 Hall 2

The Melco EMT16 embroidery system is technologically advanced in every facet of its design and manufacture. From the fully operational modular system that allows you to grow your production capacity as your sales increase, to the tensioning system that operates on a pre-feed basis helping speed up your embroidering by up to 40 percent.

The fact that the Melco EMT16 can embroider on pockets whilst they are still attached to garments is incredible. Bernina RSA is providing the training and servicing of these machines and you have a winning formula for all your embroidering needs.

Bytes Document Solutions, Stand D35 Hall 2

The increased speed of the Xerox IJP 2000, displayed by Bytes, means printers can accept and produce more wide format jobs – even last minute requests. For example, it can print an A0 page in full colour with a resolution of 1600 x 1600dpi in just seven seconds. It will give customers a huge competitive advantage.

The printer, which is driven by Caldera's Grand RIP Plus, is suitable for a range of substrates such as textile, vinyl, backlit, banner fabric and stoplight films as well as standard and coated papers. It comprises five stationary print heads that use breakthrough technology, enabling printers to achieve results that have been previously unattainable in the market.

Canon, Stand E1 Hall 2

Canon will be exhibiting its Colorwave 700, which was built to deliver the highest possible productivity in the smallest possible footprint. It can produce an exceptional range of creative applications with minimal user training in almost any business environment.

Touted to offer the perfect balance of visual and functional design, the Océ ColorWave 700 scooped a prestigious iF Product Design Award 2015 shortly after its launch.

Exion will be exhibiting the V3 Channel Letter machine that can produce various types of channel letters at 10-15 mins per letter, depending on the size and complexity of the font of the letter.

Full automated cutting machines are convenient but far too expensive. So the V3 can be a better solution for small and medium size sign companies, as it is affordable, easy to operate, user friendly and requires a low level of maintenance.

Fujifilm, Stand D1 Hall 2

With throughput speeds of over 350sqm/hr (5m model), Uvistar printers are ideal for the production of a variety of poster displays, point-of-purchase materials, billboards, vehicle graphics and backlit signage up to five metres wide. The Uvistar II series includes both 3.5m and 5m media width machines designed for high-volume super-wide industrial printing with a choice of 16 or 32 print head configuration.

Graphix Supply World, Stand C7 Hall 3

Graphix Supply World will present the Esko IXP24 that introduces a completely new standard for digital cutting tables. It provides accurate handling of even the most challenging materials.

Its durable construction enables the Konsgberg XP table to provide full time production, 24/7. The finishing device is no longer the bottleneck in your production. It was made especially for handling the combination of corrugated board and other rigid or roll materials used in POP products and product displays. The machine will be shown with the relevant i-cut Suite, Automation Engine and ArtiosCAD software.

Also on display it will be the Mimaki CJV150-160, an integrated printer/cutter that provides high performance, creativity and versatility with vibrant ink types, including new Silver, Orange and Light Black, in a cost effective package for sign makers, display graphics professionals and print shops.

The continuous register mark detection function enables the continuous cutting of a whole roll of media while simultaneously taking up unrolled media.

Ipex will have an informational stand, featuring the Truepress Jet W3200UV. The press has six colours plus two white-ink channels and different print modes which can be selected depending on the finished product. For example, Photo Quality and Fine Photo Quality modes can reproduce fine lines, serif fonts and detail in highlight areas, while the Production Mode is optimized for point-of-purchase materials.

Text as small as 4-point and 6-point reversed are sharp and legible in all modes. The flatbed machine offers features such as an advanced multilayer option enabling up to eight layers to be merged.

As a result, this single all-round printer can produce the widest range of both commodity and high-value products, such as everyday display graphics, hard/soft signage, wallcoverings, banners, lorry curtains, window film, quality POS, 1 to 8 multi-layers, backlit and day/night graphics and accurate 75lpi lenticulars.

Visitors to the JG Electronics stand will be able to learn how to take custom decorating to the next level with Forever transfer papers. The laser print process is not a replacement for sublimation but is an excellent add-on.

The latest paper is the No-Weed Flex + B-paper for Monochrome, CMYK and White Toner machines. The No Weed Flex film is available in a variety of colours, such as standard colours, white, metallic colours, gold, silver and neon colours. The No-Weed Flex allows you to produce details not possible with standard transfer vinyl on a wider  variety of substrates.

Keymark will be introduce a new concept for smaller signage shops without UV printers and routers with access to POP clients. These pre-cut templates of popular 'POP' products can be printed on eco solvent/Latex or solvent presses and then cut with templates supplied and mounted to the pre-cut and shaped Xanita boards using a trim template supplied with each pack.

The company will also exhibit products from brands such as: Roland, Fulei Beauty, Avery Dennison, Ritrama and Fly lamination and vinyls, as well as promote the Mr-Clipart life time offer of Vehicle Wrapping Design Templates.

Maxsigns, Stand C39 Hall 3

Ferrous printing films are used as a printing substrate for most inkjet digital printers and are compatible with UV ink, Solvent ink and Eco-solvent ink. It can be direct printed in the same way as normal PVC or similar printing substrate, the difference is that the ferrous printing film must work with flexible magnetic sheet. The flexible magnetic sheet works as a magnetic base and ferrous printing film is used as a cover sheet to create a magnetic graphic system.

NSDS, Stand C10 Hall 1

NSDS will present its Nano Print Plus Screen printing machine, great for four colour CMYK jobs as an in line solution, or as a spot UV finishing machine. With the correct drying equipment, the unit will work equally well with either UV or solvent based printing inks.

Having the automatic take off system, this becomes a high production unit with only one operator. Small shops offering screen printing but which outsource their finishing should consider the NanoPrint Plus as an addition to their equipment.

The company will show the power of its latest production and colour management solutions for a wide variety of graphics, textile, décor and industrial print applications. Demonstrating its top-of-the-line print workflow solution, Onyx Thrive, visitors to the show will be able to experience the newest, most innovative version of its RIP software to date, Onyx 12.

This offers a full suite of features to enhance user experience and uses improved speed to increase production capacity. 'Showcasing our new and established products in the African region, and supporting our many partners and end-users in the area, is an important step and demonstrates our commitment to the industry on a global scale,' said Kevin Murphy, President of Onyx Graphics.

Optimus, Stand A61 Hall 2

The Dash Sales Enquiry System allows users to easily create rapid quotations regardless of complexity, through its highly configurable question-driven front end. Dash provides the ability to create quotes in seconds irrespective of print process or substrate. Quotes are then easily converted into fully specified production jobs with all materials required, estimated costs and final invoice values automatically created, without the need to duplicate or re-key information.

With Optimus dash for Packaging, further functionality has been incorporated so that knives and products can be quickly identified and incorporated into the quoting function. A series of look up tables are provided for speed and ease of use.

The updated Vista System range of three sizes will be exhibited with its various advantages : Sizes are DL – A4 – A5. Vista Brochure holders allow the user to apply the Holders to any flat or curved surface by using simple snap rivets or self-tapping screws. Another unique innovation from the makers of the Vista System is the 'Name Holder Slot' in front of the Brochure Holder.

Roland DG, Stand D91 Hall 3

Benchtop will present at this year's show the new Roland LEF-300 UV object printer. With four printheads and two UV-LED lamps, the LEF-300 enables bidirectional printing approximately 60% faster (in a CMYK ink configuration), than the LEF-20.

The number of white and clear (gloss) ink nozzles have been doubled for faster printing, increased density and opacity and faster build-up of multiple layers for three-dimensional textures. A new draft print mode improves overall efficiency for users in need of quick prototype prints.

Also on display it will be the TRUEVIS VG-640 and SOLJET EJ-640. The VG-640 features TrueVIS INK, available in 4-colour (CMYK), 7-colour (CMYKLcLmLk) or 7-colour plus White (CMYKLcLmLk+Wh), delivers exceptional quality in cost-effective 500cc pouches, with reusable cartridges. In dual 4-colour ink configuration, the Roland Ink Switching System automatically switches to the backup ink pouch when the primary pouch runs out.

The SOLJET EJ-640 has dual staggered printheads and an integrated tri-heater system. In a mirrored CMYK ink configuration, the EJ-640 can achieve speeds of up to 102sqm/h. It uses ink developed alongside the machine for what Roland calls 'substantially lower operating costs for high-volume and long-run print jobs'. It is accompanied by Roland VersaWorks Dual RIP soft ware for the ability to process PDF and PostScript files natively.

The global company will be presenting at FESPA Africa the new Trotec GS1000 for high speed paper cutting. The use of laser cutting or engraving increases the quality and selling prices of these products. Logos, individual laser cutting of names and ultra-sophisticated ornaments are possible.

Any paper needing individualisation is possible on the Trotec GS1000. The GS1000 enables you to create products that would be impossible without a laser system.

Expand your range with additional services such as register-accurate contour cutting, finest geometries of engraving or perforation of printed materials. Short runs thus become highly profitable. Business cards, greeting cards, brochures and company financial statements can be cut or marked.

Wired4Signs, Stand A13 Hall 2

The double sided LED module, is designed to be used in large double sided light boxes, 200mm plus, where maximum light output is required. It comes with a five year warranty. When testing this LED Module in a light box, it was found that the number of LED Modules required is literally a third of what one would usually use. Specifications: power: six Watts; Beam Angle: 160 Degrees; water proof IP68.

The company will present Airtex Magic FR Duo, a digital print fabric with a coated light grey back and a weight of just 350 g/sqm. The surface has a textile texture, which allows the fabric to radiate a certain naturalness and homeliness.

The vinyl coating is very robust and makes the surface scratch-proof, impervious to dirt and hygienic. This makes AIRTEX magic FR duo suitable for wall coverings as a large-scale printed wallpaper as well as for shop and gastronomy decoration. The grey back coating makes the substrate virtually opaque. This means that walls do not need to be pre-treated.

Any existing stains, scratches, joins or other imperfections do not show through, leading to considerable savings in time and costs. AIRTEX magic FR duo is manufactured up to a web width of 500 cm. This means that wall coverings with impressive dimensions can be applied seamlessly.