Creative signmaker Mcart can create anything now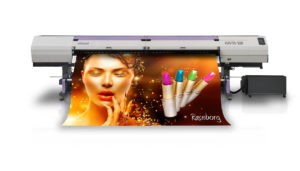 Last year, Mcart was the first to invest in the Mimaki UJV55-320, a 3,2-meter roll-to-roll UV inkjet printer, installed by Mimaki distributor Dimix. The creative signmaker in Alblasserdam can create anything now – textile or foil, bigger in size than ever before. "It's a super machine."
"We're creative signmakers", says Peter Wolff, director/owner of Mcart in Alblasserdam. His father started out as an ad painter and Peter continued the business in 2007 on an independent basis. He's a true self-made man, because 'signmaking is a trade you can only learn in practice.'
Mcart focuses on printing primarily, but also advises and develops concepts for advertising agencies, architects and artists. "We're a specialised print company, we're always looking for the right solution, the best match between creativity and skilled technique. We don't care about big volumes, we're your go-to company for tailored productions. I like reinventing the wheel on a daily basis."
Large format sign and displays
"We print everything interior and handle a lot of office design projects. We'll print anything, from lamps to picture wallpaper. But also building advertising, soft image stands for trade shows and acoustic design solutions. And, of course, large format sign and display applications. Mcart even installed a dedicated area in the new facilities in Alblasserdam for this sole purpose. One of the newest machines on display is the Mimaki UJV55-320, a 3,2-meter roll-to-roll UV inkjet printer.
Sublimation versus UV
Mcart was the first Benelux printer to start working with the large format printer last year. "Sublimation printing is our expertise and we were looking to install a new sublimation printer. We tested both types extensively and chose the UV inkjet printer in the end. It was the right choice in terms of quality and price for our specific applications in textile and foil! We're very pleased with this investment."
Off to an impeccable start
The printer had never before installed this type of printer, but that did not stop them to kick off with a flawless start, according to Lars Vreeke at Mimaki distributor Dimix. "A first installation of this type of machine, raises the expectations. It usually comes with some bumps in the road, but that was most certainly not the case here." One or two days of installation, same for training and instructions, one day of profiling – that was all the time needed for Mcart to start production on the Mimaki UJV55-320.
"Mcart knows UV printing. This team has been operating Mimaki printers for 15 years – they know how these machines work and how to make them work."
Larger format
Textile, fitted wall sheets, backlit signage and banners roll off the Mimaki UJV55-320 with the greatest of ease. "The large 3,2-meter format delivers the biggest benefit to us." Wolff explains: "Before we had to outsource anything bigger than 2,6 meter. We did not like that. Colleagues might snoop away your customers, deadlines are not easily met. You're just not as flexible as you'd like to be."
"Now we're in total control. Anything as of 2,6 meter goes on the Mimaki UJV55-320. Offices used to be 2,4 meter high. Nowadays they reach up to 2,70 meter. These sizes of wall banners can now be created on this large format printer. That's why now we can truly create anything."
The textile option
"It's just a super machine", Vreeke claims. The big advantage of UV printing is that the ink is deposited directly onto the substrate, which secures a high colour quality whether you're printing on polyester or PVC. The downside is that the UV ink easily breaks. But not on the Mimaki UJV55-320, according to Vreeke. "The material can be transformed up to 170% without breaking the ink."
In order to print both on foil and textile, Mcart also selected the textile option. Thin material can cause trouble during printer throughput, but a dedicated system on the printer secures that the material is held tight when rolled onto or off the printer."
The Mimaki UJV55-320 also comes in a 7-colour edition, featuring light cyan, light magenta and white. Three layer printing where white ink gets printed in between colour layers (colour-white-colour) is very suited for the production of applications like window graphics and backlit signs. Mcart selected the four-colour edition on this occasion. Wolff explains: "We already offer this (white-print-white) option in a smaller size and that suffices for window decoration applications."
An attractive addition
Sublimation print and UV print are two different things entirely. Wolff elaborates: "You can't expect the same things from UV as you can of sublimation. Comparing a sublimation with a UV print in a lightroom, is like comparing apples and pears. Both rock excellent qualities, just different ones. The right selection will depend on an analysis per client."
And yet the Mimaki UJV55-320 UV inkjet printer fits perfectly in the machine park of a textile printing sign maker. "The relatively low purchase price and reduced ink cost per m2 makes it the perfect addition to sublimation print." Vreeke concludes. "And the width is the biggest advantage still. You can print textile and two rolls of foil at the same time. This printer really does it all."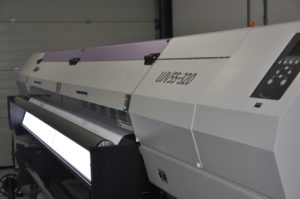 Mimaki UJV55-320
The Mimaki UV inkjet printer UJV55-320 is a 3,2-meter roll-to-roll inkjet printer that was introduced last year. It uses UV dried ink that hardens when exposed to an energy friendly LED array.
Printed sign and display graphics leave the printer completely dry and can immediately be finished, thus reducing production times. At a 110 m2 per hour speed in terms of print resolution, the Mimaki UJV55-320 qualifies as a very affordable large format printer.
For more information, please consult www.mimaki.nl.
This article was written by Arthur Lubbers for PRStory as requested by Mimaki.