Agfa Graphics zet brand reputation in het spotlicht tijdens Xeikon Café, 28 tot 31 March
Van 28 tot 31 maart richt Agfa Graphics het spotlicht op zijn brand reputation oplossingen Arziro Design en Arziro Authenticate.
Lees meer over wat je tijdens de Xeikon Café van Agfa Graphics kunt verwachten in onderstaand persbericht.
PERSBERICHT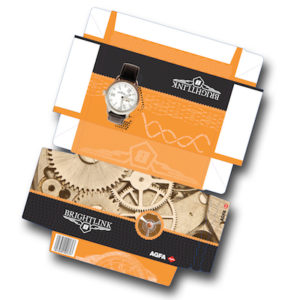 To help businesses battle against counterfeiting and protect their valuable brand reputation, Agfa Graphics developed high-end security and authenticity verification software solutions which can be seen at the Xeikon Café Packaging Innovations 2017 (www.xeikoncafe.com), set for 28 to 31 March. Agfa Graphics will join close to 40 other industry suppliers to show total solutions of digital applications in labels and packaging.
With twenty years experience in high-security graphic design software solutions, Agfa Graphics brings expertise in helping businesses battle against counterfeiting. At the Xeikon Café, Agfa will present its Arziro Design powerful security design tool and Arziro Authenticate unique software-as-a-service solution that generates secure, copy-proof QR+ codes. Designed for the general security printing market, the ultimate goal of the Agfa Graphics Arziro solutions is to make the job of counterfeiters as tough as possible by pushing the limits of design, creativity, and surveillance.
"Agfa Graphics welcomed the opportunity to be a part of the Xeikon Café to connect with an audience that is highly interested in both innovative digital printing technology and unique security systems for label and packaging applications," said Luc Bruyneel, Agfa Graphics Business Manager Security Software. "Agfa Graphics has developed a prominent position in new segments of industrial inkjet printing with our integrated prepress solutions, which we look forward to sharing with visitors to the Café. We anticipate that the combination of innovations from Xeikon and other participating suppliers with Agfa security and anti-counterfeiting solutions on show will inspire visitors to consider increasing protection from the growing threat of forgery."
Bringing security design and brand protection in-house 
While many anti-counterfeiting efforts tend to overlook the graphic design, Arziro Design acknowledges it as one of the most basic and important elements of document and brand protection. Inspired by high-end security software, it incorporates the aspect of security into the initial step of document or product creation.
Arziro Design offers a multitude of security design tools to safeguard documents and products from the growing threat of forgery, and enables in-house protection and full creative freedom in a known software environment. The resulting creations are extremely difficult and expensive to reverse engineer.
Verifying the genuineness of an item 
Tackling counterfeiters flooding the market with fake creations, Arziro Authenticate software generates secure, copy-proof QR+ codes that can be printed directly on a counterfeit-sensitive product which enables consumers to verify whether the item is authentic with a simple scan using their smartphones.
The tool, shipped with Arziro Design (Plus) also connects products to the internet, thus driving customer engagement and enabling track-and-trace functionalities. Moreover, it gives brand owners access to vital market information for future business strategies.
Applications for Arziro Design and Arziro Authenticate in combination with digital printing equipment such as Xeikon include labels, packaging, tax stamps and security documents. At the Xeikon Café, visitors will see these Agfa Graphics solutions integrated in live pharmaceutical label and packaging applications.
ABOUT THE XEIKON CAFÉ PACKAGING INNOVATIONS
The Xeikon Café Packaging Innovations is a platform offered by Xeikon and its Aura partners, offering the opportunity to understand, evaluate and experience digital production, and enabling printers and converters to consciously make a business decision. Through demonstrations, presentations, workshops and discussions, participants receive first-hand actionable information and advice on industry innovations and trends.
Date: From Tuesday March 28th until Friday March 31st
Opening hours: daily from 09:00h till 17:30h, except on Friday till 16:00h
Location: Xeikon HQ, Belgium (Duwijckstraat 17, 2500 Lier)
Website & registration: www.xeikoncafe.com
Cost: the event is free for all attendees
PARTICIPATING XEIKON CAFÉ PARTNERS
Taking part of the Xeikon Café Packaging Innovations 2017 to showcase integrated solutions are: AB Graphic International Ltd, Actega Terra GmbH, Advanced Track and Trace, AGFA Graphics, Argos Solutions, Avery Dennison, AVT, Bograma, Brotech Graphics Co., Ltd, Cartes, CERM, CHILI Publish, Diamond Photofoil Limited, Esko, Flint Group Flexographic Products, Flint Group Narrow Web, Flint Group Sheetfed, Grafisk Maskinfabrik, Grafotronic AB, Highcon Systems Ltd., Hybrid Software NV, Iggesund Paperboard, Label Traxx, Lake Image Systems Ltd, Meech International, Metsä Board, Michelman, OneVision Software AG, Rietstack, Scodix, Sei S.p.A., Smag Graphique, Stora Enso, ThermoFlexX, Treofan Germany GmbH & Co. KG, Tresu Group, Tronics, UPM Raflatac, Xeikon, Yupo Europe GmbH, and Zünd Systemtechnik AG.