PDF Aktuell 114: an overview like a kaleidoscope of what happened in digital pre-press in 2017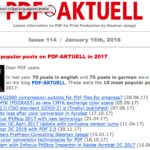 This month´s PDF Aktuell by Stephan Jaeggi is an overview of what happened in 2017 in digital pre-press. From the new PDFX online tools to PDF 2.0 show that the pre-press developments are not slowing down.
Read the complete PDF Aktuall via this link and you will be completely up-to-date.